Label Noir has applied all its expertise in colors and finishes to emphasize in its own way how to read the piece and make the Bubble a monument of contemporaneity. The move sounds normal, almost usual, but it' s not. The effects are impressive. All the more so since the model chosen for this collaborative venture is a milestone piece, an obvious creation, a purely technical piece of fine watchmaking, featuring an (almost) traditional complication: Bubble Central Tourbillon. An almost conventional complication, in fact, because this tourbillon, which features a traditional architecture, is brought back from the periphery to the center. And this sidestep turns the whole architecture of the movement and the display upside down: everything is reversed, from the mechanical show in the center highlighted by the Bubble's dome, to the display -no hands, just indicators -around the edges.
Several versions of this central tourbillon have already been achieved in various materials, with the aim of anchoring this UFO in the traditional haute horlogerie's world while playing with opposites, such as steel and blue, gold and black.Label Noir went for a different approach. Very graphic finishes, deceptively minimalist, because the play of nuances is complex, with anthracite and argentic hues, matte finishes, bracelet (matte textured black rubber), case (grade 5 titanium treated with black ADLC), bezel (grade 5 titanium coated with satin black ADLC), right down to the plate. No longer an assembly of different parts, this watch is a whole: one continuous stripe with a bubble on top.
A few more dashes of steel to enhance the dial pattern, numerals and display discs, and to refocus the eyes on the central body, the beating heart, the tourbillon.
Finally, what must be read is highlighted with a few strokes of color contrast: the acid green, Label Noir's signature -the hour-minute indicators, the dual mark and the strap stitching.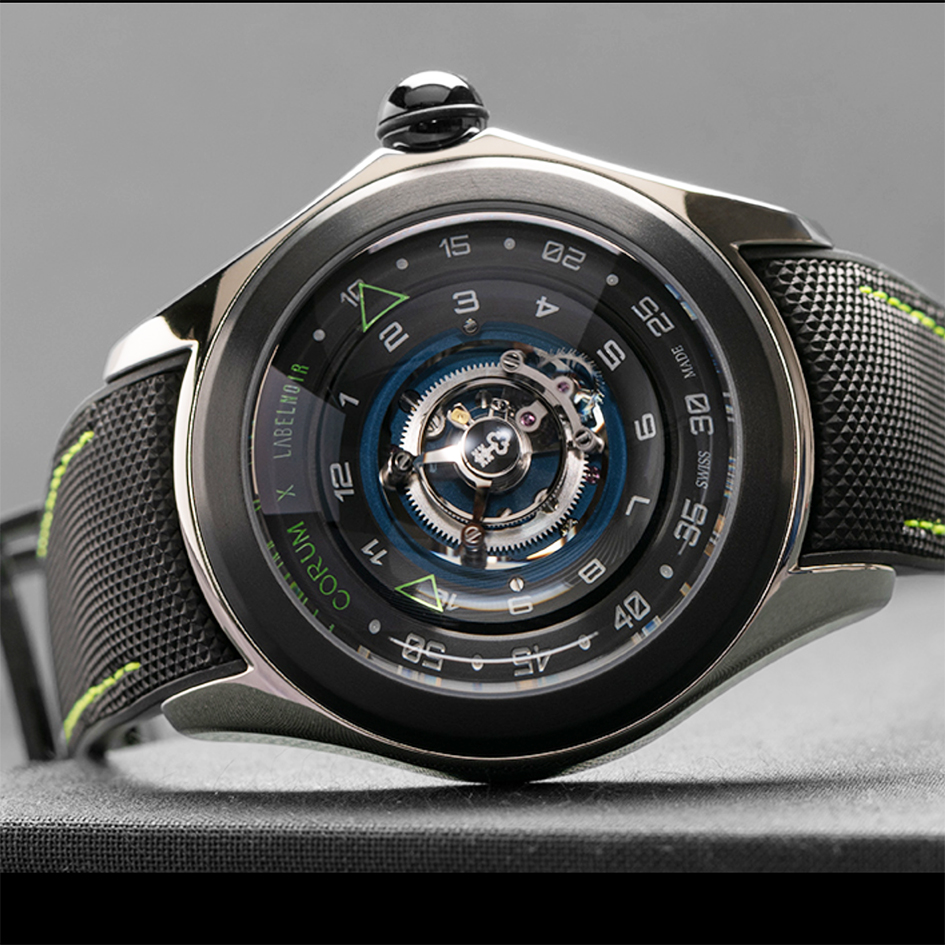 On the dial, only Corum x Label Noir appears. A minimalismfor a collaborative piece and a subtle work of nuances, as a picture, a revealing dip to grasp this watch's genius and spirit: a Bubble with its mechanical heart, a sapphire dome and a central tourbillon.
And to emphasize the uniqueness of Corum Bubble Central Tourbillon, Label Noir was careful to unify the piece, the strap and the case, the case and the bezel, the bezel and the discs of the dial. And just a few indications outlined in green, Label Noir's way of reminding us that it is still a watch and that its main duty is to give the time.
Werk
Kaliber CO46 Zentral-Tourbillon – 28.800 A/h
Gehäuse
Titan 47mm – wasserdicht bis 10 bar
Funktionen
Stunden und Minuten
Preis
95.000 CHF